Casa Hipolito Beach Villa

+91-9823265708
Premium Beach Villa
Description from the owner:
Bedrooms
4
Bathrooms
4
Sleeps
1 - 10 people
Check In
01:00pm
Check Out
12:00pm
Accommodation Details:
Bedrooms
The villa has four bedrooms with attached toilets
Kitchen
Modular kitchen (fully functional) with refrigerator, cooking range, Micro wave oven, juicer, grinder and toaster.
Outside Activities
* Transfers, sightseeing with cruise can be arranged
Cleaning/Towels/
linen/maid service
House Keeping: * All rooms are daily serviced * Bed Sheets, Towels & Blankets provided. * Toiletries provided Maid Service (On Demand)
Suitability:
Smoking Allowed
ASK
Pet Friendly :
ASK
Suitable for elderly:
ASK
Wheelchair Accessible:
ASK
Suitable for Children:
ASK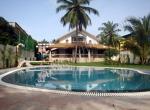 Casa Hipolito Villa Exterior

Living / Dining Room

Bedroom

Bedroom 2

Bedroom (Other View)
Amenities:

Travel & Transport


Car & Bike Hire

Taxi Service

Room Facilities


Microwave / Cooking Range

Bed Linen and Towels

24/7 Hot & Cold Water

Television

Tea and coffee making facilities

Refrigerator

Iron and Ironing Board

Attached Bath and Toilet

Air conditioning

General Facilities


Gas and Electricity

Dining Table / Room

House Keeping

Fully equiped Kitchen

Maid Service

Laundry facilities
Address in Goa:
Calangute, Close to beach front,
Calangute Beach,
GOA.
Location Type:
Beach
Extra Links
Distance From Property To:

Beach :
0.04 Kms
Reviews: (2)
Amazing Villa
Awesome!!!
Terms and Conditions:
* Accommodates 10 people.
* Check in is 1.00 p.m.
* Check out is 12.00 noon
* The villa is charged as a package for the whole villa on daily / weekly and monthly basis.
* All persons must carry PhotoID if Indian Nationals. Compulsary.
* All persons non Indian must carry Passport. Compulsary.

Availability Calendar + Prices:
To view 12 months calendar
Click here
May 2013
Sun
Mon
Tue
Wed
Thu
Fri
Sat
1
2
3
4
5
6
7
8
9
10
11
12
13
14
15
16
17
18
19
20
21
22
23
24
25
26
27
28
29
30
31
June 2013
Sun
Mon
Tue
Wed
Thu
Fri
Sat
1
2
3
4
5
6
7
8
9
10
11
12
13
14
15
16
17
18
19
20
21
22
23
24
25
26
27
28
29
30
July 2013
Sun
Mon
Tue
Wed
Thu
Fri
Sat
1
2
3
4
5
6
7
8
9
10
11
12
13
14
15
16
17
18
19
20
21
22
23
24
25
26
27
28
29
30
31
Owners Contact Details:
Owner Name: Mr. Alinio
Phone Number: +91-9823265708
Information about this Advert:
Refernce No: AD091
Advert Created On: 20/08/2009
Advert Last Updated: 08/02/2013
Unique Vistors count for Year 2012: 14979
Unique Vistors count for Year 2013: 3744
Things to do around the Area:
General Information in Calangute
List of Beaches Around the Area
Places to Visit in Goa