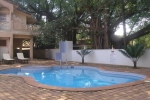 Flower Holiday Home
Candolim, North Goa

(General Manager):
Svetlana :
+919922840837
Please mention that you viewed this advert on GoaHolidayHomes.com™

Keep This Closed
Flower Holiday Home

+919922840837
Cozy and comfortable apartments
Budget, Romantic, Cottages
Description from the Owner:
You will have a wonderful stay in North Goa in a home atmosphere of cozy and comfortable apartments in small private residential complex "Landmark Dawn". We are located on the border of Calangute and Candolim (these areas are located one after another from the South to the north and there are no any visible borders between them). Candolim beach is one of the most developed in Goa, but comparing with Calangute or Baga, it is less dirtier, noisy and has available free sun-beds. Water entertainments are offered here too: scooters, water ski, "inflatable bananas", parachutes. But your vacation is not just a beach and shore restaurants! You can see here some goan life, walk on lovely small streets in search of the necessary things: souvenirs, medicines, massage salons, banks, Internet. There is also big supermarket in walking distance, a lot of small shops, the local fruit and vegetable market. You can try fresh seafood with a small bottle of local wine or rum in the cozy atmosphere of evening restaurant, which here are hundreds. There is also the round-the-clock bars and few clubs here and even Casino! And do not forget! - the developed area is possibility of a choice of services and competitive prices.
"Flower Holiday Home" - It is a great place for couples and families with children (all our apartments have a kitchen facilities), as well as for a big groups of friends (we have 15 different apartments). The residential complex is so small and peaceful, that it is feels like you are staying in a private villa. The territory of complex is fenced, includes a three two-store cottages with a different type apartments and the swimming pool.
We can propose following options of accommodation:
- 4 1BHK apartments (3 people) -(hall, bedroom with AC, kitchen).
- 3 studio-apartments (2people)-(one room - hall-bedroom, second room - kitchen).
- 5 studio-rooms (2 people)-(with AC, double bed, sitting area, kitchen area).
Extra 1 person -300rup a night.

Minimum Price
₹&nbsp1,500
Maximum Price
₹&nbsp2,400
Bedrooms
11
Bathrooms
11
Sleeps
1 - 25 people
Check In
12:00 pm
Check Out
10:00 am
Minimum Stay
3 Nights
Accommodation Details:
Bedrooms
All bedrooms are with AC, double beds.
Bathrooms
Bathroom having a hot/cold water (geezer).
Kitchen
All kitchens are with top gas stoves, fridges, utensils.
Living Rooms
Living rooms have a sofa sets, TV
Cleaning/Towels/
linen/maid service
We are providing a linen (change of linen minimum after 4 days), towels available with refundable deposit (300rup per towel). Housekeeping services - every alternate day.
Suitability:
Smoking Allowed
YES
Pet Friendly :
YES
Suitable for elderly:
YES
Wheelchair Accessible:
YES
Suitable for Children:
YES
Meals Provided:

Self Catered
Amenities:

Room Facilities


Bed Linen and Towels

24/7 Hot & Cold Water

Twin or Double Beds

Television

Tea and coffee making facilities

Refrigerator

Ceiling fan

Satellite TV

Western style toilets

Attached Bath and Toilet

Balcony / Terrace

Air conditioning

General Facilities


Gas and Electricity

Dining Table / Room

Fully equiped Kitchen

Self Catering Facilities

Maid Service

Garden
Address in Goa:
Address: India, Shimer, Candolim, Bardez, North Goa
Post Code: 403 515

Directions to the Property:
We are located on the border of Calangute and Candolim, near hospital Dukle's (the beach road opposite "Brodway book shop").
Location Type:
Village, Ocean, Beach
Extra Links
Distance from:

Airport :
45 Kms

Market :
1 Kms

Hospital :
0.5 Kms

ATM :
1 Kms

City Center :
2 Kms

Restaurant :
0.5 Kms

Beach :
0.5 Kms
Rental Period
1BHK (3people)
Studio-apartment (2people)
Studio-room (2 people)
22d of December - 3 d of January
6000
4500
4000
1 st of October - 31st of May
2400
1800
1500
1st of June - 30th of September
2200
1600
1400
Terms and Conditions:
To confirm a booking we are require advance payment (30% of total amount).
If cancelled/modified up to 15 days before arrival - 15% of total cost will be charged.
If cancelled/modified less than 15 days before arrival - 30% of total cost will be charged.

Send Enquiry:

When contacting the advertiser please mention that you saw this advert on GoaHolidayHomes.com™ with reference AD035.
Your Name* :
Your Email Address* :
Arrival Date* :
Departure Date* :
Telephone Number* :


(Include international dialing code)

No. of Adults

(12+ years old)

* :
Add More Information
YES NO
Your Message * :
Security Code * :
To prevent spamming, please enter in the letters in the box. If you are a registered visitor with us you do not have to enter this Security Code.
I would like to receive the GoaHolidayHomes.com newsletter.

**NOTE FOR VISITORS**:
GoaHolidayHomes.com does not send spam emails nor do we like to receive them. Your details will not be disclosed to any third party. This email will only be sent to the Advertiser with reference AD035 regarding Flower Holiday Home, who will get in touch with you directly.
Contact Details:
Primary Contact (General Manager): Svetlana
Primary Phone Number: +919922840837
Information about this Advert:
Reference No: AD035
Advert Created On: 03/11/2012
Advert Last Updated: 18/11/2015
Unique Visitors count for Year 2015:
Unique Visitors count for Year 2014:
Things to do Around the Area:
General Information in Candolim
List of Beaches Around the Area
Places to Visit in Goa