Luxury Villa For Rent in Calangute

+919860716060
Where Guest Returns Year after year
Adventure, Romantic, Luxury
Description from the owner:
Minimum Price
5,500 INR
Maximum Price
26,000 INR
Bedrooms
3
Bathrooms
2
Sleeps
1 - 8 people
Check In
12:00pm
Check Out
10:00am
Minimum Stay
3 Nights
Accommodation Details:
Bedrooms
3 A/C bedrooms Villa Bedroom 1 with double bed, Bedroom 2 with twin bed, bedroom 3 with with twin beds.
Bathrooms
En-suite bathroom to bedroom 1 with WC, shower, wash basin. Bathroom 2 contains a WC, shower, wash basin
Suitability:
Smoking Allowed
NO
Pet Friendly :
ASK
Suitable for elderly:
YES
Wheelchair Accessible:
ASK
Suitable for Children:
YES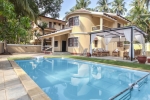 Front View Of Villa
Living Room
Master Bedroom
Dining Room
Pink Bedroom
Bathroom
Meals Provided:

Self Catered
Amenities:

Travel & Transport


Taxi Service

Room Facilities


Microwave / Cooking Range

Bed Linen and Towels

Twin or Double Beds

Wireless Internet Access

Washing Machine

Television

Smoke Detectors

Refrigerator

Private bathroom / Ensuite

Iron and Ironing Board

Internet access

Cupboard facility with personal locker

Ceiling fan

Satellite TV

Western style toilets

Balcony / Terrace

Air conditioning

General Facilities


Dining Table / Room

House Keeping

Fully equiped Kitchen

Large clothes rack to dry clothes

Private terrace gardens

Self Catering Facilities

Garden
Address in Goa:
130 Adventure Street,
Gauravaddo,
Calangute, Goa
Directions to the Property:
Ask the driver to take you to Calangute from the airport/Railway station. As you enter Calangute via Chogm Road, you will see St. Alex Church at the roundabout. You need to take left at the roundabout, then 1st left again (this road leads towards the old I95 and art chamber gallery). You will pass
a resort on the left hand side called Azzure. Continue down the road
and you will see 2 identical villas on the right hand side.
Location Type:
Beach
Extra Links
Distance From Property To:

Railway Stn. :
16 Kms

Market :
0.2 Kms

Hospital :
1 Kms

ATM :
0.5 Kms

City Center :
1 Kms

Restaurant :
0.1 Kms

Club :
1 Kms

Casino :
1 Kms

Beach :
0.2 Kms
Price (INR) per night
Rental Period
2-3 Bedrooms (5-6 people)
3 Bedrooms with 1 mattresses (7 people)
3 Bedrooms with 2 mattresses (8 people)
16th Dec-14th Jan
26,000
26,000
26,000
1st Oct-15th Dec
10,000
11,000
12,000
1st June-30th Sept
7,000
8,000
9,000
15th Jan-31st May
10,000
11,000
12,000
Terms and Conditions:
Terms and condition's of the villa is applicable
Availability Calendar + Prices:
To view 12 months calendar
Click here
December 2013
Sun
Mon
Tue
Wed
Thu
Fri
Sat
1
2
3
4
5
6
7
8
9
10
11
12
13
14
15
16
17
18
19
20
21
22
23
24
25
26
27
28
29
30
31
January 2014
Sun
Mon
Tue
Wed
Thu
Fri
Sat
1
2
3
4
5
6
7
8
9
10
11
12
13
14
15
16
17
18
19
20
21
22
23
24
25
26
27
28
29
30
31
February 2014
Sun
Mon
Tue
Wed
Thu
Fri
Sat
1
2
3
4
5
6
7
8
9
10
11
12
13
14
15
16
17
18
19
20
21
22
23
24
25
26
27
28
Owners Contact Details:
Owner Name: M/s Villa Calangute
Phone Number: +919860716060
Information about this Advert:
Refernce No: AD02
Advert Created On: 01/08/2007
Advert Last Updated: 13/04/2013
Unique Vistors count for Year 2012: 10065
Unique Vistors count for Year 2013: 5373
Things to do around the Area:
General Information in Calangute
List of Beaches Around the Area
Places to Visit in Goa