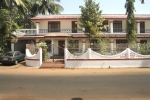 SHALOM - 4 Bedroom Luxury Villa For Rent In Goa
Panaji, North Goa

(Owner Representative):
Mr. Angelo Monteiro :
001-7053451257 / 001-7053451257
Please mention that you viewed this advert on GoaHolidayHomes.com™

Keep This Closed
SHALOM - 4 Bedroom Luxury Villa For Rent In Goa

001-7053451257
/ 001-7053451257
HURRY - BOOK NOW! (Whatsapp - 017053451257)
Luxury
Description from the Owner:
An exquisite bungalow in a very peaceful neighborhood in Goa. There are four bedrooms and five bathrooms. A modern western kitchen fully equipped with oven,microwave, fridge, cutlery, dishes and pans. There are closets in every room.. All bedrooms are fully air conditioned. There are balconies from where you can admire the magnificent view of the green fields of Goa.

The house is ideal for families, couples, students and tour groups who want to spend their holidays close to the beach. The nearest beach is only 1 km away, It is accessible to the pharmacy, banks, restaurants, bakery and convenient stores .Public transport service bus stop is just a few steps away from the villa.

It is 4 km to the capital city, Panjim. It is also 2 km away from Miramar beach, where there is a variety of traditional food, restaurants and fine dining. Within a 4 km radius are the Marriot Hotel, Cidade de Goa and Chances Casino and the ship casinos with live gambling tables.

A short walk to the beach, surrounded by coconut trees and fields, come and enjoy the Goa you have always been proud of...in a house you can feel safe, comfortable and call it a home away from home!



Minimum Price
₹&nbsp5,900
Bedrooms
4
Bathrooms
5
Sleeps
1 - 8 people
Check In
Anytime
Check Out
10:00 am
Minimum Stay
3 Nights
Accommodation Details:
Bedrooms
The house is fully furnished with four large beds with comfortable mattresses. All the rooms are air conditioned.
Cleaning/Towels/
linen/maid service
Linen will be provided. There will be a towel in each bathroom. The maid will clean the general areas of the house on a daily basis except the bedrooms.
Suitability:
Smoking Allowed
ASK
Pet Friendly :
YES
Suitable for elderly:
YES
Wheelchair Accessible:
ASK
Suitable for Children:
YES
Amenities:

24 hours Round the Clock


24 Hour Running Water

24 hour hot showers

Room Facilities


Microwave / Cooking Range

Bed Linen and Towels

24/7 Hot & Cold Water

Television

Tea and coffee making facilities

Refrigerator

Private verandahs

Private bathroom / Ensuite

Ceiling fan

Cable

Western style toilets

Attached Bath and Toilet

Balcony / Terrace

Air conditioning

General Facilities


Gas and Electricity

Dining Table / Room

House Keeping

Fully equiped Kitchen

Large clothes rack to dry clothes

Private terrace gardens

Maid Service

Garden
Address in Goa:
Near Syndicate Bank
opposite Hotel Monteiro's
Caranzalem,
Panjim - Goa
Directions to the Property:
From Panjim take the road going towards Miramar beach. At Bayside Hotel, take a left turn.Come to Syndicate Bank. The villa is on the left hand side less than a kilometre away.
Location Type:
Away from it all, Beach, City
Extra Links
Distance from:

Airport :
25 Kms

Railway Stn. :
29 Kms

Market :
0.5 Kms

Hospital :
4 Kms

ATM :
2 Kms

City Center :
4 Kms

Restaurant :
3 Kms

Club :
4 Kms

Casino :
4 Kms

Beach :
1 Kms

School :
1 Kms
Rates
Rental Period
Nightly Rate
Weekly Rate
Monthly Rate
Base rate
5900
empty
Terms and Conditions:
A minimum deposit of one days/nights rent is mandatory to confirm reservation. The balance can be paid upon arrival. A 100% refund is allowed only if one month notice of cancellation is provided.
Availability Calendar + Prices:
December 2015
Sun
Mon
Tue
Wed
Thu
Fri
Sat
1
2
3
4
5
6
7
8
9
10
11
12
13
14
15
16
17
18
19
20
21
22
23
24
25
26
27
28
29
30
31
January 2016
Sun
Mon
Tue
Wed
Thu
Fri
Sat
1
2
3
4
5
6
7
8
9
10
11
12
13
14
15
16
17
18
19
20
21
22
23
24
25
26
27
28
29
30
31
February 2016
Sun
Mon
Tue
Wed
Thu
Fri
Sat
1
2
3
4
5
6
7
8
9
10
11
12
13
14
15
16
17
18
19
20
21
22
23
24
25
26
27
28
29

Send Enquiry:

When contacting the advertiser please mention that you saw this advert on GoaHolidayHomes.com™ with reference AD0129.
Your Name* :
Your Email Address* :
Arrival Date* :
Departure Date* :
Telephone Number* :


(Include international dialing code)

No. of Adults

(12+ years old)

* :
Add More Information
YES NO
Your Message * :
Security Code * :
To prevent spamming, please enter in the letters in the box. If you are a registered visitor with us you do not have to enter this Security Code.
I would like to receive the GoaHolidayHomes.com newsletter.

**NOTE FOR VISITORS**:
GoaHolidayHomes.com does not send spam emails nor do we like to receive them. Your details will not be disclosed to any third party. This email will only be sent to the Advertiser with reference AD0129 regarding SHALOM - 4 Bedroom Luxury Villa For Rent In Goa, who will get in touch with you directly.
Contact Details:
Primary Contact (Owner Representative): Mr. Angelo Monteiro
Primary Phone Number: 001-7053451257
Secondary Contact (Owner Representative): Mr Angelo Monteiro
Secondary Phone Number: 001-7053451257
Information about this Advert:
Reference No: AD0129
Advert Created On: 11/01/2014
Advert Last Updated: 17/12/2015
Unique Visitors count for Year 2015:
Unique Visitors count for Year 2014:
Things to do Around the Area:
General Information in Panaji
List of Beaches Around the Area
Places to Visit in Goa